Penny crypto stocks have gained trading momentum, provoking burgeoning attention from investors ready to profit from the boom.
While premier digital asset Bitcoin hit an all-time high (ATH) of $67,000 last week, some penny crypto stocks also caught the tides of the bullish wave.
This article discusses the crypto stocks that you should watch out for in the market.
1. Ebang International Holdings Inc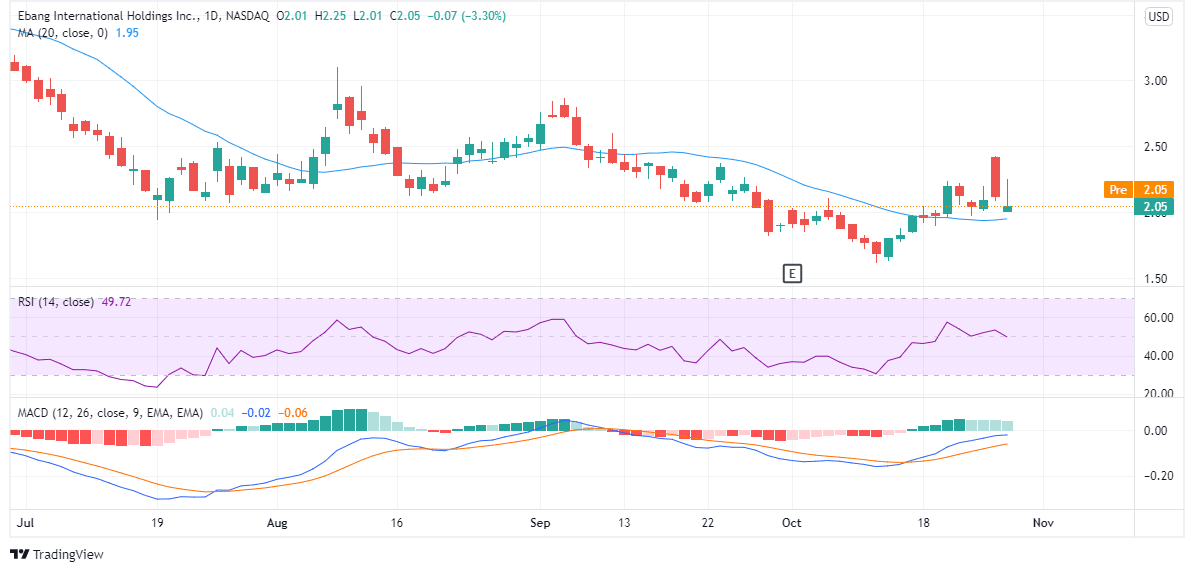 Ebang has been one of the standout stars in the penny crypto stocks market. A pure-play blockchain company, Ebang focuses on building and designing application-specific integrated circuits (ASIC) for miners. These powerful machines are key in mining proof-of-work (PoW) virtual assets like Bitcoin and Ethereum.
Aside from this, Ebang has moved directly into buying and selling cryptocurrencies by launching its own in-house Bitcoin exchange platform called EBONEX.
Currently pegged at $2.05, Ebang with ticker EBON is consolidating after a strong upsurge in the last couple of days. It rallied with the industry as reflected on the chart when the asset surged to $2.44 on October 24. With so much vested in the crypto space, EBON is one of the top penny stocks for 100x profit.
68% of all retail investor accounts lose money when trading CFDs with this provider
2. SOS Ltd
SOS Limited makes the list of pro-blockchain and crypto companies catching investors' attention. Offering cloud computing, AI, satellite, 5G infrastructure and emergency-based services, SOS recently turned its attention to its true calling – furthering the goal of fostering the new digital economy through blockchain and cryptocurrencies.
SOS launched its crypto mining operations with an initial 6,039 mining rigs. This was split across 575 Ethereum mining rigs, and 5,464 rigs focused on Bitcoin and other PoW protocols mining.
This savvy addition is expected to generate a total of 400GH/s for its 575 Ethereum rigs and 177PH/s for its 5,464 mining rigs. With crypto interest ramping up, more investments would likely move towards the asset.
SOS has been privy to the same volatility that characterises the crypto market. It is down 7.8% at press time and trades at $2.22 after a stellar performance through much of September. Meanwhile, its crucial role in the blockchain space makes it one of the top penny crypto stocks for 100x profit to watch out for.
68% of all retail investor accounts lose money when trading CFDs with this provider
3. Canaan Inc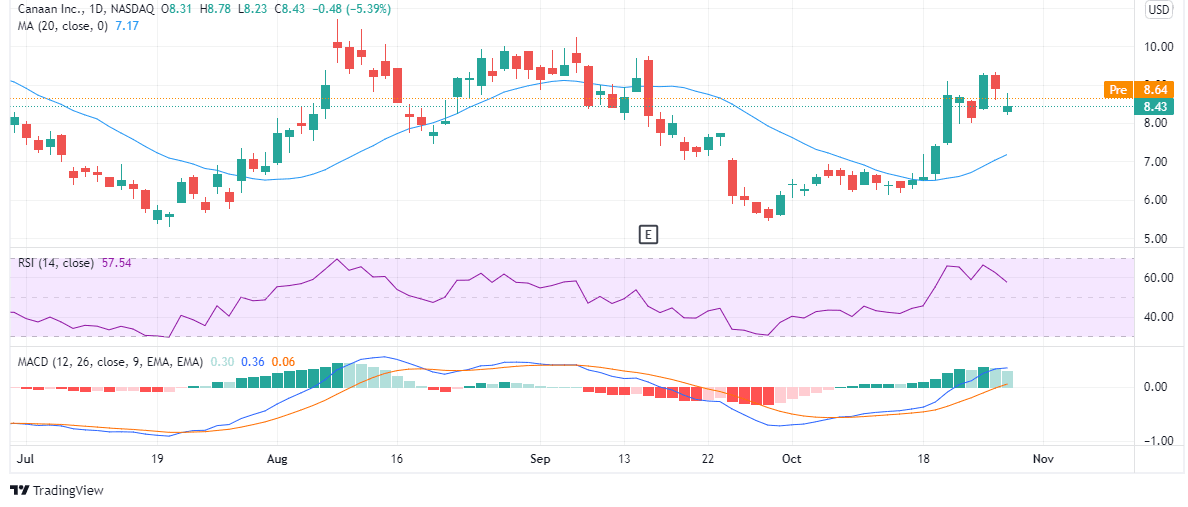 Another top penny crypto stocks for 100x profit is high-performance computing solutions provider Canaan Inc. It also produces computer chips and has delved into the world of blockchain and cryptocurrencies.
As one of the top Bitcoin mining rigs producers, Canaan also brings several energy-efficient crypto mining solutions to market. It announced a request order from Mawson Infrastructure Group for the purchase of 17,352 Bitcoin mining machines. With so much potential in the crypto space, Canaan Inc is the next generation of companies leading the crypto frontiers indirectly.
Stock-wise, Canaan does not fit into our definition of a penny crypto stock. It currently trades at $8.43, which puts it above the $5 price peg, but it previously tanked to $5.26 following a strong bearish retracement in the tail-end of September. Today's price sees it lose 5.39% from its 24-hour high of $9.91.
68% of all retail investor accounts lose money when trading CFDs with this provider
4. Bots Inc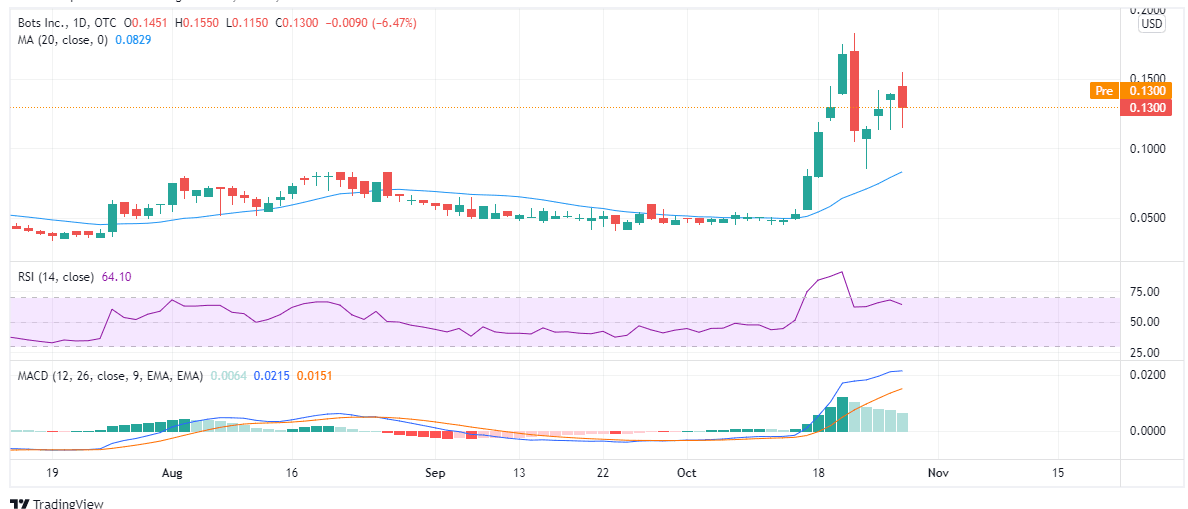 Bots Inc is a true penny crypto stocks for 100x profit given its high growth leeway.
The company is an international tech firm focused on Fintech, blockchain, and cryptocurrencies.
Bots Inc launched a crypto mining academy with a view of equipping the next generation of Bitcoin mining repairers.
Aside from this, it plans to offer training courses on miner operations and maintenance, thereby extending the warranties and longevity of Bitcoin rigs for customers.
Bots' BTZI has seen a mix of bulls and bears and currently rests at $0.1300 after seeing a massive bullish push to $0.18 a few days earlier.
68% of all retail investor accounts lose money when trading CFDs with this provider
5. Marketing Worldwide Corp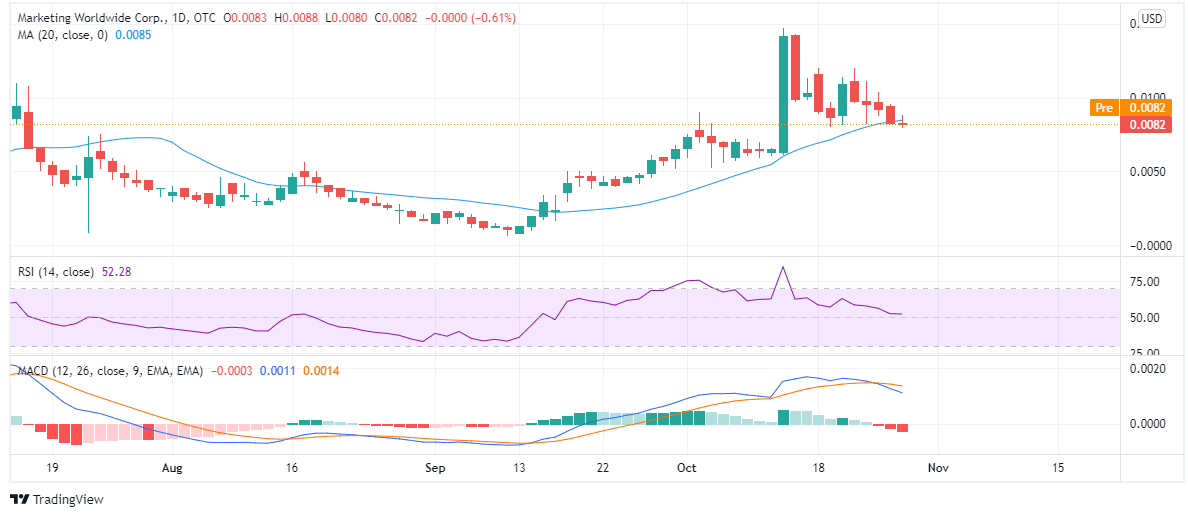 Last but not least on our penny crypto stocks for 100x profit is former auto parts supplier turned acquisition company, Marketing Worldwide Corporation. It recently completed the acquisition of a crypto mining operation.
The company said this investment is expected to be a recurring revenue stream and will employ a user-focused approach in enabling a broader crypto-mining ecosystem for passive income generation.
Marketing Worldwide has seen the best of both worlds in price and has largely tracked the crypto market. Its MWWC stock value saw a significant uptrend on October 14 as it rallied more than 200% to $0.0144. It has since lost most of that steam and currently trades at $0.0082, down 0.61%.
With more crypto interests growing, these penny crypto stocks for 100x profit could net you a sizable return on investments.
68% of all retail investor accounts lose money when trading CFDs with this provider"
Read more: