The cryptocurrency market remains in its end-of-year purgatory. Its total cap has climbed by 0.9% in the past 24 hours, to $2.38 trillion. Major coins have inched upwards by similarly modest percentages within the same timeframe. Bitcoin (BTC) is up by only 0.4%, while ethereum (ETH) has witnessed a 1.4% appreciation. However, there remain a number of cryptocurrencies in the market with the potential for bigger gains. We highlight some of the most notable of them in this article, which looks at the 5 best cryptocurrency to buy for 10x returns.
1. Internet Computer (ICP)
ICP is today's biggest gainer over the past 24 hours. At $35.78, it has climbed by 23% in the past day, and by 44% in the past fortnight.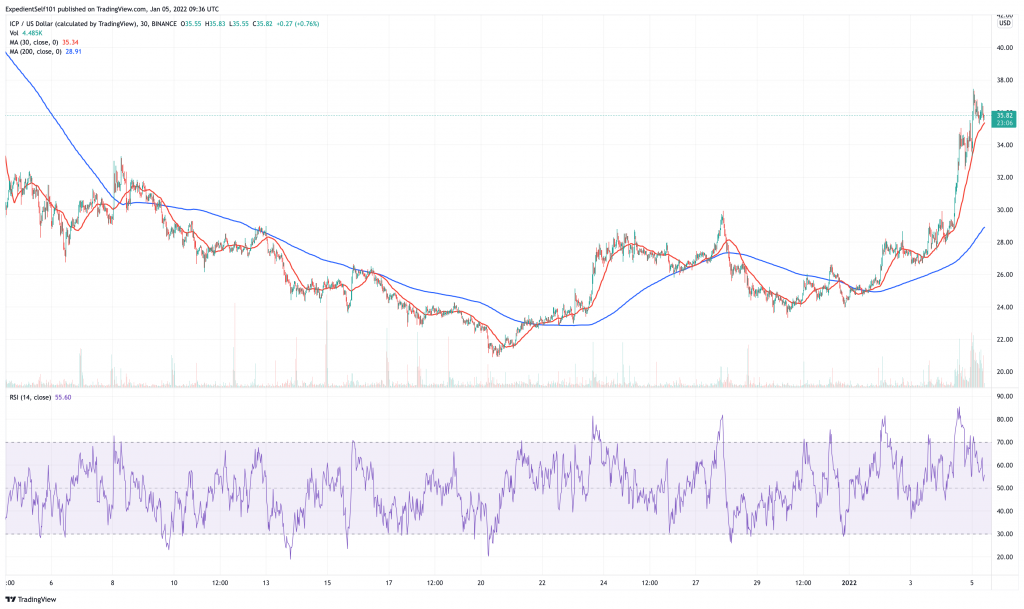 ICP's indicators reveal some strong momentum. Its relative strength index (in purple above) reached 85 yesterday and remains at an encouraging 55. Its 30-day moving average (in red) is soaring well above its 200-day average (in blue), suggesting a breakout to a new long-term level.
What makes ICP a promising investment is the fact that it remains 95% below its all-time high of $700. This record was set on the day of its launch, with demand for the coin skyrocketing upon its release. And while it has obviously fallen dramatically since then, its fundamentals remain just as promising as they were back in May 2021.
Specifically, ICP is the native token of Internet Computer. This is a blockchain-based platform that aims to offer a decentralised version of the Web, with its distributed network of 'subnets' capable of running applications at internet-speed.
Most recently, Internet Computer has attracted attention for its plans to integrate with the Bitcoin and ethereum blockchains. Both of these integrations will allow bitcoins and ERC-20 to exist natively on the Internet Computer blockchain. In turn, this will open the platform up to greater use, something which has increased the market's appetite for ICP.
2. The Graph (GRT)
GRT is up by 11% in the past 24 hours, having risen to $0.726992. It's also up by 9% in the past week and by 6% in the past month.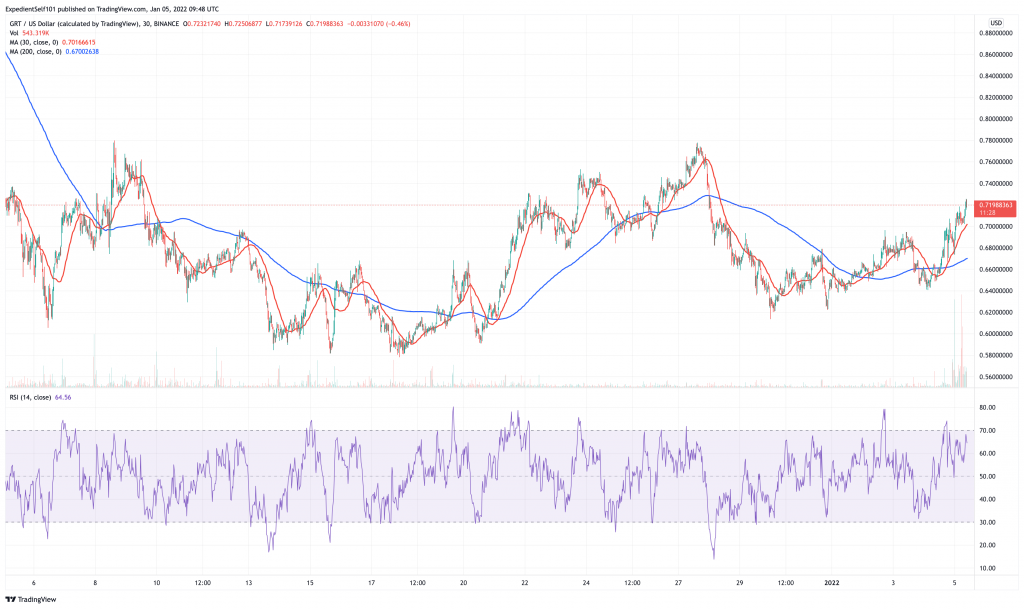 GRT's RSI shows rising — and strong — momentum. Likewise, its 30-day average formed a 'golden cross' with its 200-day average yesterday. This could be a sign that a rally is about to break out.
GRT is the native token of the Graph, an open-sourced protocol enabling users to collect, process and store data from various blockchain applications. GRT is staked by users of the protocol in order to retrieve and store information.
The Graph celebrated a number of new partnerships and launches in December. This largely explains its recent rises, with its ecosystem expanding and attracting new users. For example, it partnered with Aurora on data indexing, while it also saw YieldFi platform Entropyfi launch on its network. It's because of such growth that it's one of our 5 best cryptocurrency to buy for 10x returns.
We believe that @graphprotocol can offer a better user experience and an easier developer experience while keeping a high degree of #decentralization – Entropyfi dev teamhttps://t.co/ZP0AHEUIxT

— Entropyfi (@entropyfi) December 29, 2021
3. Chiliz (CHZ)
At $0.322328, CHZ is up by 7% in the past 24 hours. This also represents a 5% rise in the past week and a 15% jump in the last 14 days.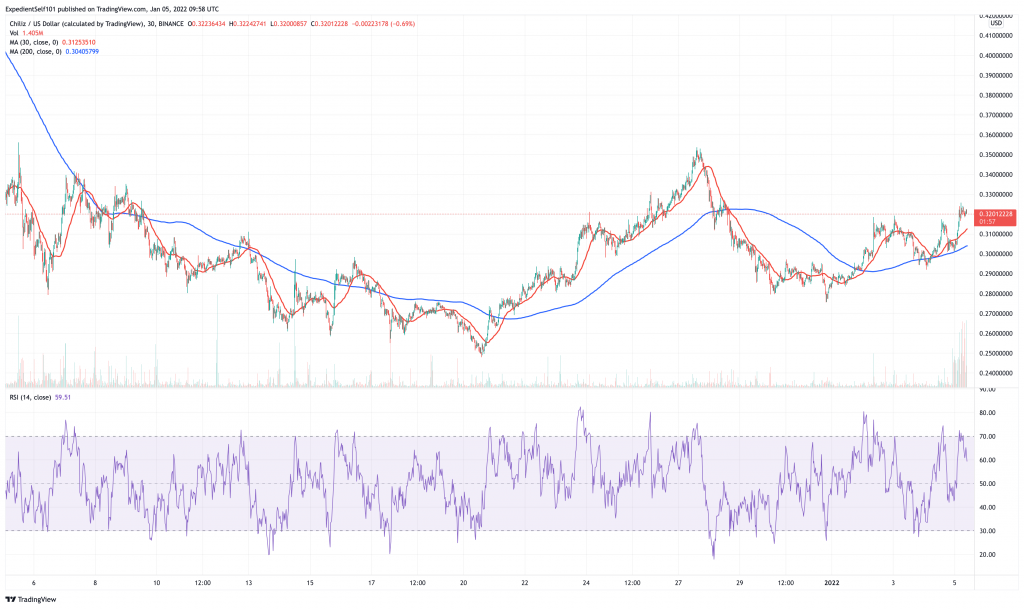 CHZ is another coin whose indicators suggest the beginnings of a possible breakout. Its RSI is just above 60, which shows good momentum without the coin being overbought.
More fundamentally, there are various reasons to be confident in CHZ. As the native token of the 'world's first' tokenised sports exchange, it's likely to see growing demand in the future, with sports fans increasingly seeking to buy the official branded tokens of their favourite teams.
Indeed, at the end of last year, the platform celebrated having over 100 partnerships with various teams and "sports properties." It also famously gifted Cristiano Ronaldo some of its $JUV tokens in March 2021, sending CHZ to an all-time high of $0.878633. It's now 63% below this level, but with the platform taking the lead as far as official sports tokens go, it could be in for big growth in 2022.
That's a good start for 2022. I see a lot of missing countries and un-announced teams. @socios x @chiliz $CHZ. pic.twitter.com/HLIyg2sAkM

— Alexandre Dreyfus (@alex_dreyfus) December 27, 2021
4. The Sandbox (SAND)
SAND is basically flat in the past 24 hours, at $5.60. It's also down by 6% in the past week, but up by 3.3% in the last 30 days.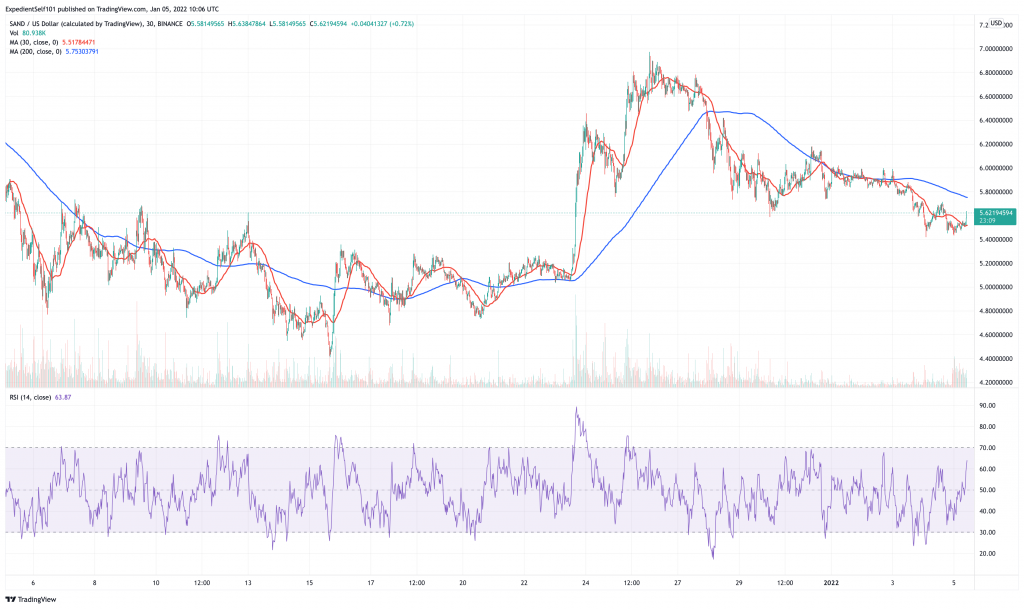 SAND's indicators suggest that time may be ripe for a rally. Its 30-day average has been declining since December 27, yet it may have hit a bottom. This is suggested by the fact that its RSI has shot up from 35 to 65 in just under a day.
Looking at the bigger picture, SAND is arguably one of the most promising coins for 2022. More than any other coin in its category, it seems to be doing very well out of the current, Facebook-inspired craze for the metaverse. For instance, it sold one plot of land for $4.3 million at the start of December. It also turned over $86 million in land sales in the last week of November alone, more than any other metaverse-related platform (including Decentraland).
And with a $93 million raise from major VC fund SoftBank at the beginning of November, it has a great chance of expanding even further in 2022. This is why it's one of our 5 best cryptocurrency to buy for 10x returns.
5. Iota (IOTA)
IOTA is currently priced at $1.30, representing a fall of 4% in the past 24 hours. It's also down by 10% in the past week, despite remaining up by 12.8% in the last 30 days.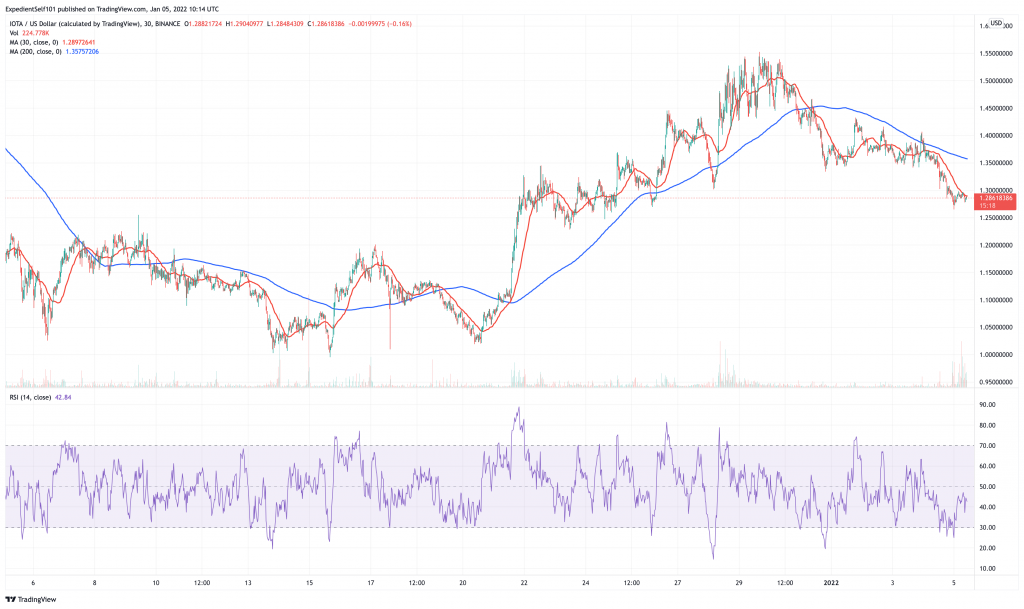 IOTA is another coin whose indicators suggest that it's nearing a bottom and may shoot up at any time. Its RSI suggests it's being oversold at the moment, while its 30-day average looks close to a bottom with regards to its 200-day average.
While IOTA has fallen in the past week or so, its native platform has now successfully rolled out staking. By locking up supply, this should increase relative demand over the longer term, pushing up IOTA's price.
🚀 $SMR and $ASMB staking rewards for $MIOTA start NOW 🚀#IOTA teams worked tirelessly, and we are humbled by our community's excitement for the dawn of @shimmernet & @assembly_net 🌅.
Stay tuned, and you can always join us mid-stake 👇https://t.co/9T7eRfoKs1 pic.twitter.com/9HQlM6eAGq

— IOTA (@iota) December 28, 2021
Stakers of IOTA now receive SMR and ASMB as rewards. These are tokens which can be used with Iota sister networks Shimmer and Assembly, with Assembly adding smart contract capabilities to Iota's suite of Internet-of-Things tools. Given such capabilities, we may see increased adoption and use of the Iota ecosystem over time. This can only be a good thing for IOTA.
Capital at risk
Read more:
"use strict";var wprRemoveCPCSS=function wprRemoveCPCSS(){var elem;document.querySelector('link[data-rocket-async="style"][rel="preload"]')?setTimeout(wprRemoveCPCSS,200):(elem=document.getElementById("rocket-critical-css"))&&"remove"in elem&&elem.remove()};window.addEventListener?window.addEventListener("load",wprRemoveCPCSS):window.attachEvent&&window.attachEvent("onload",wprRemoveCPCSS); source insidebitcoins.com