The cryptocurrency market is slowly recovering after a couple of bad weeks. Its total value has risen to $2.77 trillion, from around $2.55 trillion on Saturday. Most major coins have risen in the past 24 hours, with ethereum (ETH) and solana (SOL) rising by 6% and 8%, respectively. However, if you're a trader after really big gains, you may have to look at some of the more promising small-cap altcoins. Accordingly, we've put together a list of the 5 best cryptocurrency to buy for 10x returns. These are coins that show more short- than long-term potential. Although some may be good bets for the future too.
1. Gala (GALA)
GALA is flat over the past 24 hours, at $0.631438. That said, this price represents an impressive 67% rise in the last week, as well as a 550% appreciation in the last month.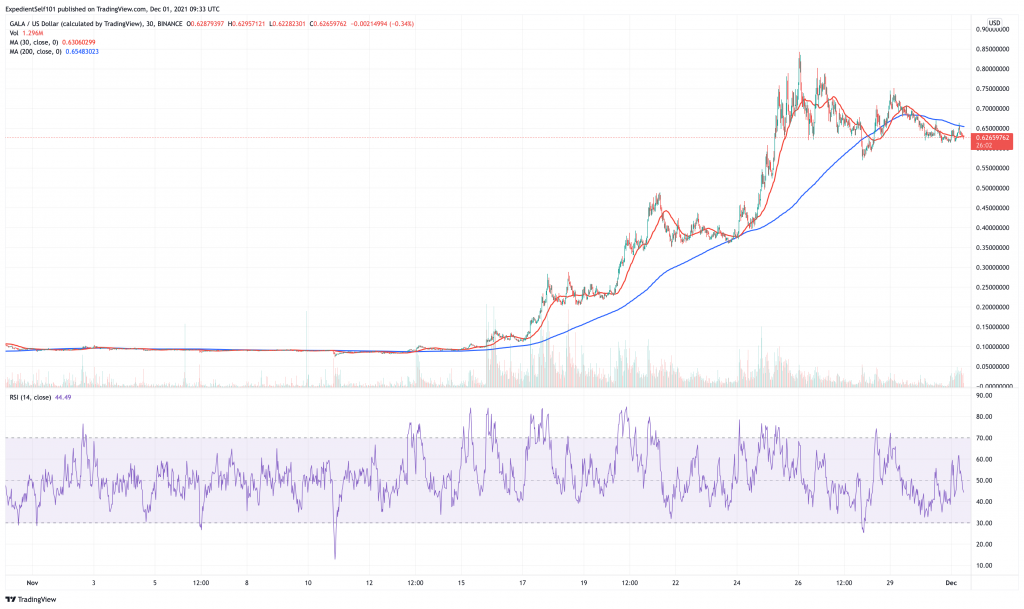 GALA is currently taking a break from its recent rallies. This is good news for traders who haven't bought into the coin yet. Its relative strength index (in purple above) sits at around 45. Meanwhile, its 30-day moving average (in red) has sunk below its 200-day average (blue). This indicates that it may be on the brink of beginning a new surge.
GALA is the native token of Gala Games, an NFT-based gaming platform. Running on the ethereum blockchain, developers can use it to build blockchain-based games. It recently announced that it plans to spend around $1 billion on the development of its ecosystem. This suggests that it still has plenty of room to grow.
Two main takeaways from the @GoGalaGames Spider Tank World Cup in Seoul:

1.) We are built differently and we will always and consistently drive to level up…always.
2.) We announced that we are going to deploy $1b USD into game development in Korea. https://t.co/nvQEYgl3kQ

— Jason (BitBender) Brink (@BitBenderBrink) November 28, 2021
Indeed, a number of analysts now think GALA could rise by more than 10 times its current value. And with a total possible supply of 50 billion GALA (now at around 36 billion), supply constraints could help it to reach such a target.
$GALA 🌑
° $10
°
°
° $5
°
°
° $1
°
🚀
🌍

— LordStocksPicks♓️ (@LordStocksPicks) November 29, 2021
2. ethereum Name Service (ENS)
ENS is up by a modest 0.5% in the past 24 hours, at $68.29. It has risen by 36% in a week and by 38% in a month.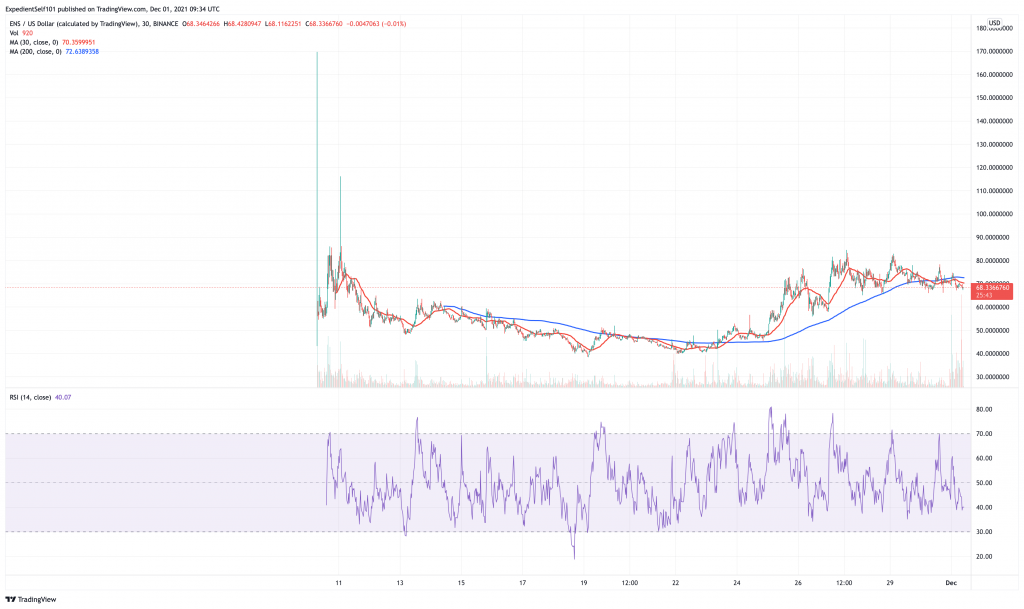 ENS' RSI is at an undersold 40, suggesting the start of a new jump. Its 30-day average is also below its 200-day, again indicating that we may be at the end of a pause in its longer term appreciation.
Available for trading since early November, ENS is the governance token of the ethereum Name Service. This is a service operating within ethereum that lets users convert alphanumeric addresses into human-readable text. For example, a wallet address such as ah82393jakHj10330M [not a real address] can be associated with a more legible address such as insidebitcoins.eth.
Users who want a human-readable address such as this will need to pay a fee for the rights to it. It's entirely conceivable that, as ethereum gains more mainstream adoption, more individual users and organisations may want to have easily read and remembered names. As such, ENS is likely to rise in the future, making it one of our 5 best cryptocurrency to buy for 10x returns.
3. Mobox (MBOX)
MBOX is up by a whopping 58% in the last 24 hours, rising to $13.74. This is also a 115% rise in the last week and a 220% increase in the past month. That said, MBOX is 8% down from its all-time high of $15.44, although this was set only a few hours ago.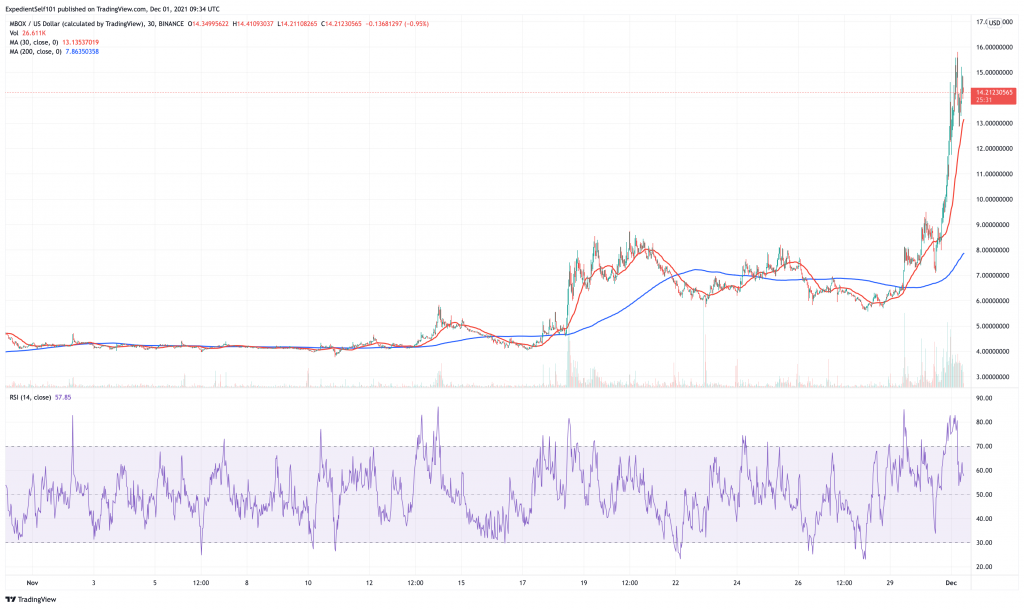 MBOX's indicators show that it's experiencing a breakout right now. Its RSI verged firmly into overbought territory earlier today, but is back now to a more sustainable level. Likewise, its 30-day average has sailed ahead of its 200-day. This likely indicates that it has decisively entered a new level.
MBOX is the native token of Mobox, which is an NFT-based gaming ecosystem built on Binance Smart Chain. It refers to its ecosystem as the MOMOverse, a cross-platform metaverse where players can own in-game items via NFTs.
Needless to say, MBOX is riding the metaverse wave that was created when Facebook changed its name to Meta at the end of October. It very recently integrated with Binance, and has only just celebrated signing up a million users.
🤯WOW!!
A WHOPPING 1,000,000+ Residents Have Joined The #momoverse In Just Over 12 Hours!!⏱

Now That's MOMO-mazing!!🤩

📲Scan The QR Code With @binance App & Get Your #metaverse #nft !#NFTs #NFTCommunity #P2E #GameFi pic.twitter.com/VaaXOmkn3q

— MOBOX (@MOBOX_Official) December 1, 2021
It's because of its association with Binance and its recent explosive growth that we've added MBOX to our list of the 5 best cryptocurrency to buy for 10x returns.
4. Polkadot (DOT)
DOT is up by 5% in the past 24 hours, reaching $37.72. It is, however, down by 7.8% in the past week and by 12% in the past month. It's also 31% down from its all-time high of $54.98, set on November 4.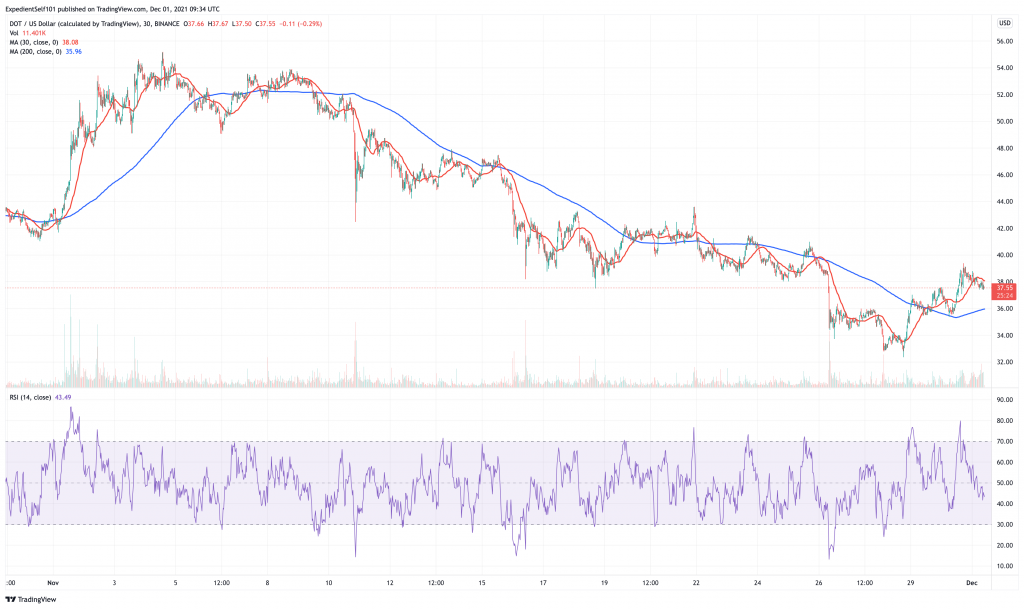 DOT's indicators are promising. Its RSI remains at a very moderate level, while its 30-day average has recently risen above its 200-day for the first time in a while. This could suggest that it's about to rally, or at least make up for recent falls.
There are plenty of fundamental reasons to be optimistic about DOT. Its native platform, Polkadot, kicked off its first ever parachain auctions in early November. By requiring hopeful projects to bid DOT in order to win a slot on the Polkadot blockchain, these will increase demand for DOT over time. They will be held at a rate of one per week for the next for several months. Importantly, they'll result in dapps running on Polkadot and using DOT to function.
5. Chiliz (CHZ)
At $0.448940, CHZ is down by 0.6% in the past 24 hours. It's also up by 3.3% in the last week, but down by 9.3% in the past fortnight.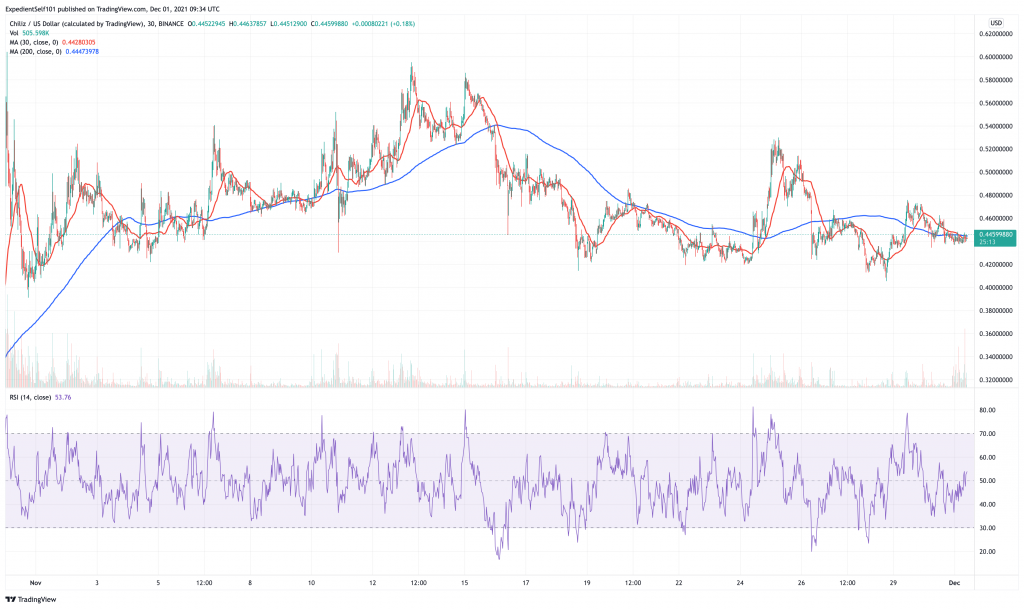 CHZ technicals also indicate an opportune time to buy, given that its market isn't overcooked right now. And given the growth of its native platform in recent weeks and months, it's likely to rise again soon.
For example, the Socios.com platform — which lets users purchase tokens representing their favourite sports teams — recently partnered with France Football, the organisers of the Ballon d'Or, for a giveaway.
✨The oldest & most prestigious award in world football is now part of the family.https://t.co/2FROhSNgw8 is excited to announce a global partnership with @francefootball, home of the Ballon d'Or.#BeMoreThanAFan ⚡️ $CHZ pic.twitter.com/ytVMEzm7Y3

— Socios.com (@socios) November 26, 2021
Famously, Socios.com also awarded Cristiano Ronaldo with CHZ fan tokens in March, causing the coin's price to rise by more than 1000%. Given that it does work in the sports sector, it could experience a similar boost in the future. This is why it's one of our 5 best cryptocurrency to buy for 10x returns.
You want blockchain to become mainstream? Follow @chiliz @socios initiatives. Block by block, step by step, we are building one of the biggest blockchain-based consumer-facing products. #bemorethanafan $CHZ @juventusfc @Cristiano $JUV @binance pic.twitter.com/EbT8OKLgHH

— Alexandre Dreyfus (@alex_dreyfus) March 21, 2021
Capital at risk
Read more:
"use strict";var wprRemoveCPCSS=function wprRemoveCPCSS(){var elem;document.querySelector('link[data-rocket-async="style"][rel="preload"]')?setTimeout(wprRemoveCPCSS,200):(elem=document.getElementById("rocket-critical-css"))&&"remove"in elem&&elem.remove()};window.addEventListener?window.addEventListener("load",wprRemoveCPCSS):window.attachEvent&&window.attachEvent("onload",wprRemoveCPCSS); source insidebitcoins.com